from the desk of William McDonough: A Garden Factory™ Grows in India
时间:2014-11-24
Dear friends and colleagues,
I've just returned from Dubai where I was chairing the World Economic Forum's new Meta-Council for Circular Economy. It was a great experience and wonderful to be with the Global Agenda Councils and other Chairs, like Al Gore, as we engage in new and important work and prepare for Davos. From Dubai, I went to Amsterdam to begin the design of a new HUB for the Circular Economy near Schiphol, and then to New York, where I joined the Doen Foundation, Wendy Schmidt and the board of the Cradle to Cradle Products Innovation Institute at the Institute's second annual gala celebration where they announced their new Fashion Positive Initiative.
It's been a busy time, and in the middle of this, David Johnson and Roger Schickedantz from William McDonough + Partners were in India celebrating something else very special happening near New Dehli.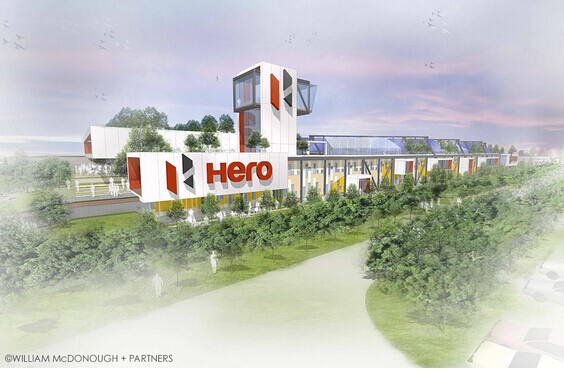 Many of you know that we are inspired by questions that test boundaries: What if we could design buildings like trees? What if a factory could be a garden of health and productivity? It is always gratifying to see these "what if" notions transformed into reality.

A few weeks ago, Phase 1 of the first William McDonough + Partners' Garden Factory™ projects opened in Neemrana, India. We are the design architects working with Hero MotoCorp, the world's largest manufacturer of two-wheeled vehicles, to create the world's most innovative, eco-effective factories that demonstrate what we call "Octa-Generation," which means that they capture or generate eight things: electrical energy, heating, cooling, water from the air, carbon dioxide for rooftop greenhouses, food, jobs on the roof, and air quality for people working in the building.


The New Garden Factory™, Neemrana, India: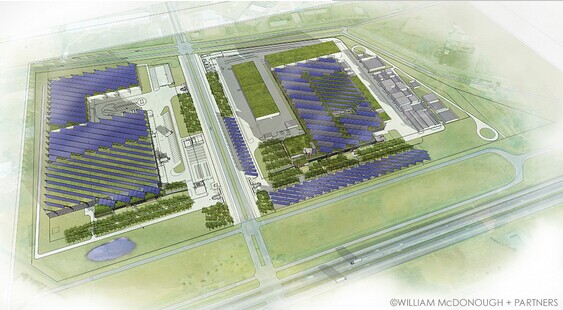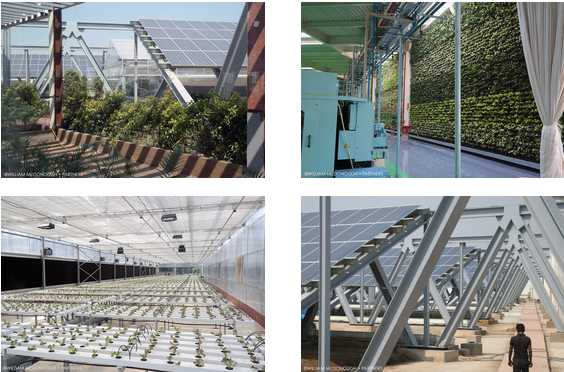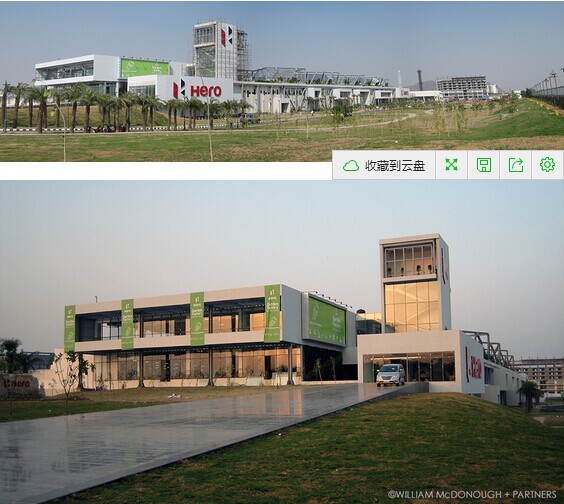 Prime Minister Narendra Modi, hailed our design, and Hero's focus on eco-effective goals, as a commitment to the future and important and inspiring game-changer for the world. The Indian Green Building Council has awarded the Neemrana Garden Factory™ with a Platinum rating. We have just been informed that it has earned the most points for any factory.


Hero MotoCorp Research & Development Center, Kukas, India: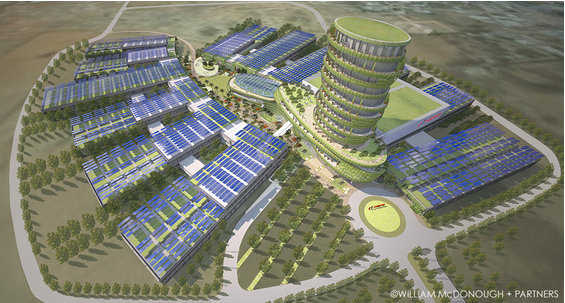 We are also leading the conception and design teams for Hero MotoCorp's new solar-powered Research & Development Center on a 250-acre site in Kukas, India, opening Summer 2015; as well as their next Garden Factory™ project, located in the Gujarat State.
Meanwhile, in Chicago: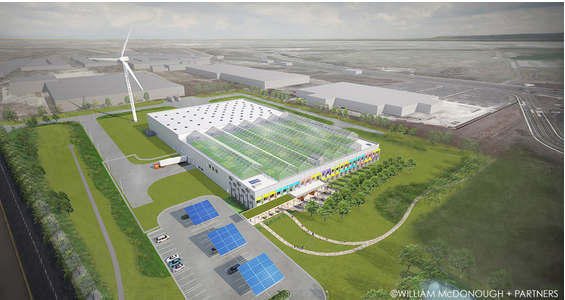 We have just designed a factory in Chicago for Method Home as a model for the 21st century, demonstrating Method's commitment to good corporate citizenship, from the siting of the facility in a part of the city ready for renewal to the active greenhouses for local organic food production on the rooftop. The project is currently under construction and slated for completion Spring 2015.
Other Projects Designed by William McDonough + Partners
Many of the manufacturing facilities and workplaces William McDonough + Partners has designed over the years have drawn new benchmarks for eco-effective design and construction.
Herman Miller's GreenHouse Factory and Offices:

We designed Herman Miller's GreenHouse Factory and Offices before LEED® existed, and more than doubled productivity and financial performance of the on-site workforce.
Ford Rouge Manufacturing Center, Dearborn, Michigan: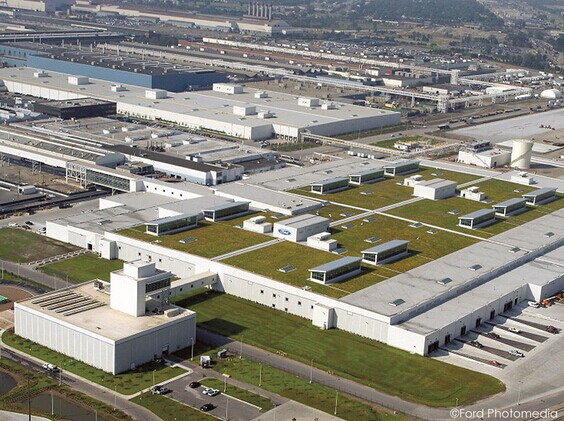 Our design for Ford Rouge resulted in the world's largest green roof, completed in 2003. The master planning and revitalization of the historic site pioneered sustainable strategies for brownfield redevelopment, corporate citizenship, and environmental regeneration.


"We wanted the Rouge again to be the most copied and studied industrial complex in the world. My great-grandfather would have thought the Rouge Revitalization—a project imagined, planned, and executed by William McDonough + Partners and a team of consultants—was fantastic."
William C. Ford, Jr., Chairman, Ford Motor Company
Sustainability Base, NASA Ames Research Center, Moffett Field, California: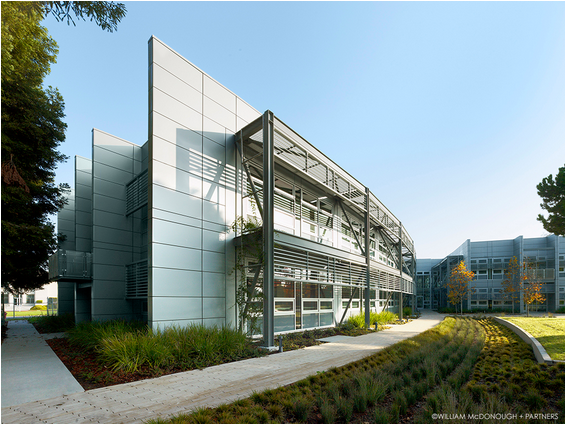 For NASA Ames Research Center, we designed a 50,000-square-foot office within a tight Federal timeline. Sustainability Base has elements that can ultimately generate more energy than it needs to operate and cleanse its own water. Not only that, this building like a tree actually improves over time.
Procter & Gamble, Taicang, China: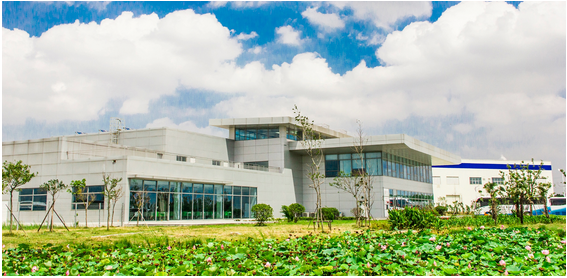 We have designed factories around the world for Procter & Gamble. The recently completed Taicang Beauty Plant in China is P&G's first factory to use 100 percent renewable electricity from a nearby wind farm. This is the equivalent of using six million kwh or the equivalent of 5,400 households in urban China (eliminating more than 5,000 metric tons of carbon dioxide per year).
"Taicang is the result of an intentional sustainability focus. Working with William McDonough + Partners has resulted in breakthroughs for the company and generated our most sustainable manufacturing plant to date."
Stefano Zenezini, Vice President, Global Product Supply Beauty Sector, Procter & Gamble
And now with our new ground-breaking Garden Factory™ in India, we are lifting up the ground and putting it on the roof. Isn't that something? It has been an exciting process to work with corporate leaders dedicated to demonstrating their values by committing to innovation by design. We at McDonough Innovation and William McDonough + Partners would like to discuss your big "what if" and together test the boundaries of what is possible.
Warmest regards,